The Gibson 1983 Chet Atkins Classic Electric Guitar. (Second from right.) needed a high quality PA system to perform in a large venue. (The Spectrum in Philadelphia, PA. is a large venue.) I selected Peavey International 115 Main cabinets, and Peavey International 112 CX Monitor Cabinets, and I used two DECA 700 Power amps to drive my transducers.

I may add more photos to this page later but presently I like the download speed so for the time being what you see is what you get.
My "bread and butter" tools.... My toys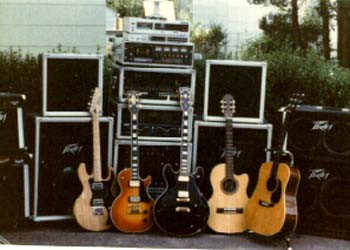 Click on the picture above to see more details in another window.
Pictured in the front row left to right are the following guitars:
Peavey T-60. It's gone....
The 1959 Gibson Cherry Sunburst Les Paul Custom Deluxe. It's gone....
The Gibson ES 347
The Gibson Chet Atkin Classic Electric
The Martin D-28
The equipment in the back row left to right:
The Peavey amp on top of the Peavey Special 130 is gone.
The Peavey 112 CX on top of the Peavey 115 FC.
The bottom Peavey road rack contains the Peavey 701 R mixer, digital delay, a Tascam patch bay, and a Tascam head phone amp with 4 independantly controlable stereo outputs.
A road rack with 4 Roland guitar efx processors in it.
Another road rack with Roland voice efx, and two True Diversity wireless recievers, one stereo 15 band graphic EQ. Symetrix compressor limiter, Aural Exciter, and more....
Tascam Teac Syncassette tape deck Sony FM Tuner, Sony Tape Deck.
A Peavey power 210 speaker enclosure on top of one stereo 212 extension cabinet of whic there are three....

This FREE webpage: http://jim19809.tripod.com/id1.html was built by J. Robert Beaver, A_Web_Master@YaHoo.Com on Saturday, November 5, 2005. This FREE website was started on Thursday, October 14, 2004 at 9:54 AM. EST.

741 days later, On Tuesday, October 24, 2006 I sold both Steinberger guitars to a new friend of mine in Lexington, Massachusetts. The effort to sell these instruments required almost four years (1,461 days.) of maintaining a high profile on the Internet. I sold the guitars to a new friend by the name of Glen....

We (Glen and I.) lost none of the cash that was used in this transaction to eBay or PayPal!

It's . . . .
I'm always here; http://jim19809.tripod.com/id1.html.... even when I'm not!



Home, The Rack; Page 2, My toys are for sale., Contact Information, Two Steinberger Guitars, John B. Hartman Electric, L.L.C., Some of my favorite links., HP stuff for sale., Hardwood Floors, Affordable Rooter, FreeCell Cheats!, Reserved Master Carpenters, WebMaster Tools, My Auto Concierge, Pete Renzetti, Jim Beaver, Master Fiddler, Hold The Phone!, The Future...., 4W5, 4W5 Pix, 4W5 Cafe, A Sign To You, WPVI TV 6., MIDI Converter., Buffalo Chip., Lawyer Stuff.,Gene Zambino.,Bill Britt & Billy Britt.,T-R-O-U-B-L-E.,The Sign Guy.,Red Hot And Bluegrass.....,Some Papers....,.Been There, Done That.....,HP 41 CX.....,My Toys.,Vacation Photo Album.,Family Photo Album.,Favorite Links.,
These are some of the major search engines that I use: NoNags.Com (Alexa, AllTheWeb, AltaVista, Galaxy, Google, HotSHEET, Lycos, Info.Com, Mamma, MetaCrawler, Netscape, AOL, DogPile, Ask Jeeves, HotBot, iXquick, Teoma, Search.com, WebCrawler, WindSeek, MSN, YaHoo! & etc. et al...gMail)
A special thanks to Lycos® which is a registered trademark of Carnegie Mellon University, for hosting my website, and allowing me to have the privilege to use this server, and it's resources...
Sunday, July 31, 2005 14:27 E.D.S.T.
Jim Beaver, 203 Smyrna Avenue, Gwinhurst, Brandywine Hundred, New Castle County, Wilmington, Delaware, 19809-1236,
Steinberger, guitars, Gibson Guitars, Hewlett Packard calculators and much more for sale.
Phone: 302 798 0195.
...
http://johnbhartmanelectricllc.com/WebMaster/jim19809.swf
HTTP://3SteinbergerGuitars.Tripod.Com
http://JimBeaverWebMaster.tripod.com/BoothsCornerFarmersMarket/
http://jim19809.tripod.com/jim19809.swf
1964 Philadelphia Phillies Right Handed All Star Pitcher Number 28, Art Mahaffey
http://homepage.mac.com/jamesbeaver/Menu1.html
Http://WebMasterJimBeaver.Tripod.Com